Antique Appraisal Fundraisers Info
In Business Since 1979
Appraiser on the Canadian Antiques Roadshow
Our combined experience provide over 100 years of expertise in the antiques field .
We will be offering fair verbal appraisals reflecting current market conditions.
We also offer immediate purchasing for those interested in selling any of their items.
WHAT TO DO.
Set a date. Advertise the event from 6:00 pm t 9:00 pm.
This allows us to finish up by 10:00 pm, and should allow you approximately 60 guests,
approximately 120-150 items appraised. The fee structure we suggest that has worked well in the past
have been; $5.00 for 1 item. 3 items for $10.00. $20.00 for 6 items, etc....
A good idea is to pre-register and pre-sell tickets. A tea and desserts
is always a welcome idea and helps make you a few extra dollars.
You can expect us to show up 30 minutes early to assist in any last minute details.
ADVERTISING THE EVENT.
You should consider posters. Community papers, Your organizations bulletins, local radio stations.
Many of these offer free advertising for fundraiser events.
SETTING UP YOUR ROOM
We ask you set up 3, 8 foot social tables (side by side), one for each appraiser. (John & Marilyn sit together.)
We require one good table lamp on each table. Set up chairs for your guests to wait to see one of us.
Chairs should be set up approximately 10 feet
away from the appraisal tables to allow privacy for your guests.
APPRAISAL COSTS
We Suggest you hand out sequential numbers to your guests as they arrive.
Each number you hand out is good for 1 to 3 items to be appraised.
Example if a person were to arrive with 9 items they would receive 3 numbers.
We suggest a fee of $5.00 for 1 item, $10.00 for 3 items, $20.00 for 6 items, etc....
Our fee to your organization is $250.00 plus $60.00 per hour travel time to and from the event.
For this we do appraisals on 60 numbers. After 60 numbers we charge $3.00 per number.
Please contact us if you would like to confirm a date.
Once we have a date set we will need contact numbers just in case
we have car problems or become lost on the way to your event.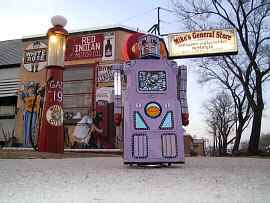 Call us if you have anything interesting for sale

STORE HOURS.
Tues-Sat 10:30-4:30
Ph. 1-204-255-3463
Mike's General Store
52 St. Annes Road
Winnipeg, Manitoba
R2M 2Y3 Canada
In Business Since 1979
Appraiser on the Canadian Antiques Roadshow