Established 1979.
Mike and Barb Huen. Mike's General Store is located in
Winnipeg, Manitoba. Canada. 8 Hours North of Minneapolis.
Our store is crammed full of; Old Toys, Old Tins, Advertising Signs
and memorabilia and Unique Collectibles of all kinds.
We have been in the mail order business since day one.
DISCOVER SOMETHING SPECIAL TODAY
KEEP SCROLLING DOWN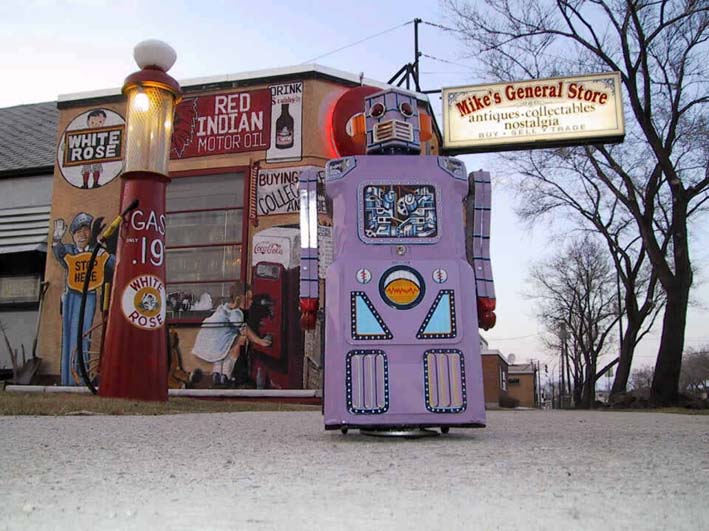 IF YOU WOULD LIKE TO SEE MORE PHOTOS OF MURAL
CLICK ON THE ABOVE PHOTO.
OUR 34th. ANNIVERSARY.
Our store has been in business over 34 years.
Offering the greatest one of a kind items you will ever find.
Find the perfect ITEM in all price ranges. Hard to find items.
Something for everyone.
KEEP SCROLLING DOWN
WE ARE CONSTANTLY ADDING NEW ITEMS
* Most recently updated pages
Be sure to scroll all the way down
APPRAISAL SERVICE
Wanted To Buy
SHOP HOURS.
&
DIRECTIONS.
BUYING SILVER COINS & CANADIAN BILLS
Sewing Machines
Action Figures
Canadian Bills
Ducks Unlimited Pins
Old Magazines
Silver Items
* Old Advertising
Books on Antiques & Collectibles
* Farm & Tractor Items
Medalta Pottery
Old Ship Items
Old Advertising Signs Page 1 porc.
Brooke Bond Tea Cards & Albums
* Fire Cracker
Labels
Military
HO Slot Cars
Old Advertising Signs Page 2 paper
Old Car Ads
* Football
Military Photos
Snowmobiles
Old Advertising Signs Page 3 tin
Old Car Magazines
Fountain Pens
WW2 Squadron Patches
* Soft Drink Items
Old Advertising Signs Page 4 misc
Old Car Sales Brochures
Furniture
* MISC. ANTIQUES
Other Sporting Items
Advertising Character Figures
CARDS
Non Sports
G. I Joe Toys
MODEL KITS
WW2 Squadron Patches
Animation Art
Carnival Glass
Ghostbusters
Movie Press Kits
Star Trek & Sci-Fi
Automobilia
Old Catalogs
* Glassware & China Dishes
Movie Memorabilia
Star Wars
Automobilia
Page 2
Cereal Boxes & Premiums
7-11 & Character Glasses
Nightmare Before Christmas
Old Stereoview Cards
Automotive Manuals
Chalet Glass
Old Gum Card Wrappers
Wanted To Buy
Syrup Dispenser Pumps
Automotive Books
* China Dishes Glassware
Hallmark Ornaments
Oil Lamps
TELEPHONES
Auto Rad Caps & Moto Meters
* Old Christmas Items
Hot Rod Magazines
Television Collectibles
Aviation Items
Coca-Cola
signs & pins
Old Hockey Memorabilia
PEZ Coming soon
Teenage Mutant Ninga Turtles
Barbie Dolls
Coca-Cola
Page 2
trays, key chains, knives, cans, christmas, bottles, glasses.
Holiday Items
Old Photos
Thunderbirds TV Show
BASEBALL
Coca-Cola
Page 3
toys & games, blotters, sporting items, books.
Hot Wheels
Playboy Calendars
Commerative Tin Cans
Batman Items
Coca-Cola
Page 4
Pens, watches,
Household Oil Tins
3 in 1 Oilers
Old Postal Covers
Vintage Tin Cans
Beehive Hockey Cards
Coca-Cola Clothing
The Hudson's Bay Company
Postcards
* TOBACCO SILKS & CARDS
Beetlejuice Toys
Comic Books
* American Indian Artifacts
* Pushbars
OLD TOOLS
CARPENTRY
Vintage Bicycles
Cracker Jack Prizes
Ink Bottles
Racing Collectibles
* Old Toys
Pre 1970
Old Blotters
.
Jello Wheels
Old Radios
Old TOYS 
POST 1970
Old Boating Items
DC Superheroes
Vintage Jewelery
Railway Collectibles
Books On Old Toys
* Old Bottles & Cartons
Depression Glass
K.F.C. Animation Cels
* WADE Red Rose Tea Figurines
* Tractor & Farm items
Bottle Caps
Dick Tracy Toys
Kinder Surprise Eggs
Rock & Roll Records
* TOY TRAINS
Breweriana
* Dinky, Matchbox & Corgi Toys
LEGO
Rock & Roll Memorabilia
Viewmaster Reels
Britains & Other Lead Figures.
Collectible Dolls
License Plates
Rolling Stones Posters
Western Items
Have a look around our shop 
Our shop mural
Lighters
ROSEVILLE POTTERY
Worlds Fair
Newest Shop photos
.
Lighting
2004 POPPY _QUARTERS_
Winnipeg & Manitoba Items
BUYING SILVER COINS & CANADIAN BILLS
SHOP HOURS.
&
DIRECTIONS.
Lunch Boxes
Wanted To Buy
APPRAISAL SERVICE


We Now are accepting payment by Pay Pal.
Just click on the photo for description.
STORE HOURS.
Tues-Sat 10:30-5:00
.
Ph. 1-204-255-3463
Mike's General Store
52 St. Annes Road
Winnipeg, Manitoba
R2M 2Y3 Canada
In Business Since 1979